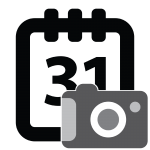 Lately I have found myself using app.net (ADN) more and more, and other social networks less and less. I like to be in control of the information I share, and I like the clean and simple design of ADN; not to mention the fact that 256 characters are ideal for quickly sharing something.
More than this, I really like the approach ADN is taking toward photography. The presentation of your work is enticing, and the selection work the team does is very interesting (check out @hand_picd on app.net). I believe ADN might become a popular platform for photographers.
I shared a couple of my photos in the past, but I wanted a way to do that automatically, scheduling the posts in advance. I did not mention it, but another great thing about app.net is the API: so I decided to write a simple app to schedule my photo posts in advance, and I have called it photo-app. While at it, I tried to make it pretty and to add a couple of things which might be interesting for photographers: one of these being a portfolio page, so if somebody likes one of your shares on ADN, they can go to your portfolio and see the rest of your work.
This is the very first version, I have another couple of things I would like to add in the coming weeks. As always, do not hesitate to send feedback and suggest new features!
More information on the application page.