Although I enjoy iOS and use my iPhone and iPad Mini very often, my main computing device remain my Mac Pro. I used to mostly use a laptop before making the switch, but I mainly use the computer at home and I have been extremely happy with the Mac Pro since I bought it, end 2010. I also have a Macbook Pro 15, which I have bought to be able to test on a retina display. Although I love the retina display and the 512GB internal SSD (which is insanely fast), I mostly use the MBP when I travel. The main thing that I love with the Mac Pro is that I can keep it running 24/7 without any problems, and that no matter what tasks I throw at it, I have never ever heard the fans.
I am still happy in terms of performance, but sometimes I feel constrained by the memory and storage speed. My boot disk and home directory are stored on a Fusion Drive, made by a relatively old 120 GB OWC SSD, and a regular 1TB hard disk. Possibly because of the age of the SSD, and maybe because I have never wiped it out, I don't get great performance out of it; it's nowhere near the MBP native SSD, and actually comparable to a regular hard disk. So I have decided to rebuild the fastest Fusion Drive I could imagine, and I have ordered the following (from OWC):
Mercury Accelsior E_2: this should be the fastest possible option, as it is directly on the PCI bus and is not constrained by the SATA controller; I ordered it with 240GB;
WD VelociRaptor: one of the fastest HD available (10k RPM), with a 5 years warranty on top of it.
I have done some tests, though nothing very fancy, before and after creating the Fusion Drive:
[caption id="attachment_1641" align="aligncenter" width="277"]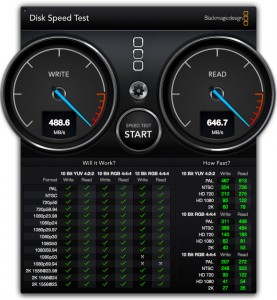 OWC Mercury Accelsior E_2 stand-alone[/caption]
[caption id="attachment_1643" align="aligncenter" width="277"]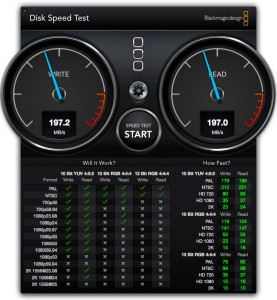 WD VelociRaptor stand-alone[/caption]
Even the hard disk by itself is considerably faster than my previous Fusion Drive. Now, after cloning the previous boot drive on this newly created Fusion Drive, these are the numbers. All tests are done using a 5GB file.
[caption id="attachment_1644" align="aligncenter" width="277"]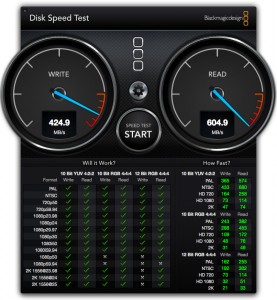 Fusion Drive[/caption]
My previous Fusion Drive was in the range of 120MB/s, for both read and write operations.
In the past I have read some stories about a self-made Fusion Drive not optimizing the data and never moving often used data from the HD to SSD. Just to be sure, I have done the following test:
After selecting a big file (several GBs) and making sure it was on disk (using a tool like iStat Menus it is easy to see whether the activity is on the SSD or the HD);
I have read the file, timing the operation (from command line, something like: time cat big_file >/dev/null): this took roughly 8s, and I saw activity on the HD;
Repeating the same thing took less than half second, and this is expected because the file is cached in RAM; still, I repeated the command some 20 times, to cheat the OS in believing I used the file often;
I let the machine run for several hours while I went out for lunch, to allow the Fusion Drive to do its magic, and to let the cache forget about that file;
I repeated the command above: this time the operation took only 2s, and I could see activity only on the SSD.
This is sufficient to convince me that the Fusion Drive optimization works as expected.
On top of this, I have bought 16GB of DDR3 ECC RAM, to get to a total of 32GB, which should make my life in Lightroom, Photoshop, and Illustrator easier.
The total bill wasn't exactly cheap, and I did consider stepping up to the new Mac Pro, but that would have been an absolute overkill for what I do. Moreover, I would have had to completely redesign my backup strategy and disk-space allocation.