The tech giant shows no signs for slowing down.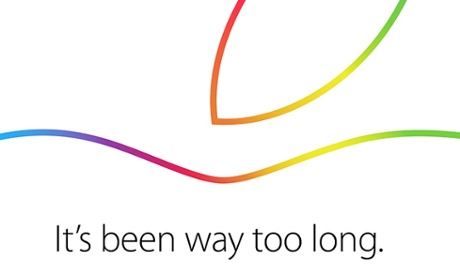 Mere weeks after Apple unveiled their largest smartphones yet, and amidst criticism of the their latest releases' propensity for bending, Apple has confirmed their October 16, 2014 iPad event.
Many months ago, Cesare wrote about the tablet and how many people considered it a low-hanging fruit, berating the tech giant for hardly being innovative. With the iPhones currently dominating the market, however, it seems that launching the new iPads might just be the only way to go. Journalists have just received invitations – similar to those of the iPhone 6, but this time with the tag line "It's been way too long." – for the event, which takes places from 6pm UK time in the Town Hall Auditorium in Cupertino, CA, with simulcasts being shown in Apple's Kurfürstendamm store in Berlin.
It's expected that the latest range of iPads will have bigger screens, operating on the premise of "bigger is better", which was seen in the iPhone 6, giving users who create and manage content on their tablets a bit more leeway. This is a logical move, as mobile markets continue to push forward and take over some of desktop and notebook consumer bases. As tablets continue to grow more powerful and developers continue to make apps that give them the functionality of more traditional computers while preserving their mobility, tablets are quickly becoming preferable over clunky computers. The new iPads are also expected to feature Apple's new payment system, the Apple Pay, which can be used in conjunction with the Touch ID functionality, confirming payments with fingerprints rather than passwords.
Of course, more could be unveiled at the coming product launch. Apple's teaser said that it had been too long, so we could be excused for thinking that Apple's other products may also be getting much-needed upgrades. Ever since the success of the iPhone 3G and 4, the iPod Touch has become largely neglected, and so have most of their other products. With the tech giant now handling the iWatch, it seems the time is ripe to begin looking inward for developments, rather than outward.
Speculations have also risen about possible updates to the Mac Mini, and Apple would do well to begin expanding their line to include old products as well, winning back old fans and gaining new followers because of their commitment to their user base.
No matter what products are unveiled at the event on October 16th, Apple must strive to find a way to present their ideas in novel ways, especially in light of the "Bendgate" issues. Samsung has already made quick jabs on the issue, with O2 noting that ironically enough, Samsung has also published a concept video of a tablet that bends and twists. Could this next generation of iPads be the one where bending and twisting are packaged as features and not flaws? It looks like we'll have to wait and see.